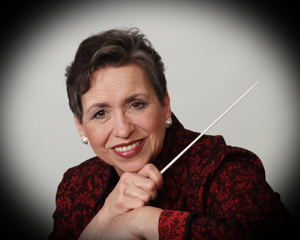 Karen Nevins, M.A. in Performance
"Always seeking choral excellence!"
CONDUCTOR AND ARTISTIC DIRECTOR
Lenawee Community Chorus, Fall, 2013 -
Lenawee Community Chorus is where my own choral singing of major works began under the direction of Dr. Art Jones, Adrian College. It was in LCC that I sang my first oratorio solo and where I gained the self-confidence and encouragement to pursue my own degree in Music Ed as a non-traditional student at E.M.U! I am incredibly thrilled to serve LCC as their new Conductor and Artistic Director with a goal of giving back to them many rich musical experiences similar to those that were provided to me in the mid-1980's.
AWARDS, SCHOLARSHIPS, RECOGNITION
2012 Ann Arbor Kiwaniis E3 Award
The 2012 E3 award was presented in recognition of Lincoln High School's Choral Program for Extraordinary Educational Excellence provided to Lincoln High School choral students.
MSVMA Teacher of the Year nomination
2013 MSVMA Teacher of the Year finalist
Honors Choir Conducting Positions
2012 University of Toledo HS Honors Choir
2008 Lenawee County Arts Festival Honors Choir
2008 MSVMA SSAA State Honors Choir Director - DeVos Auditorium, Grand Rapids - Jan 26, 2008
2007 MSVMA (Region A) SATB Regional Honors Choir - Region A/Roscommon HS
Educational Scholarships
1999 Carolyn Leep Scholarship Recipient for Graduate Study
1993 Kappa Delta Pi Educational Honors Fraternity Inductee
1992 Golden Key National Honors Choir Inductee
1990-1993 EMU Helen R. Gilbert Endowed Scholarship Recipient
1963 Blissfield Band Scholarhip Recipient (Interlochen Arts Academy All-State Program with Van Cliburn and Lucy Baines Johnson performing "Peter and The Wolf.")
Teaching Positions Held
Carillon Music Academy - Teacher of Voice/Piano, 2013
Lincoln Consolidated Schools - Director of Choral Activities, 1995-present
Model Elementary - General Music, Technology, 1995-1997
Grass Lake Schools - 1993-1995
Grass Lake High School Choir - Grades 9-12
Grass Lake Middle School Choir - Grades 7-8
George Long Elementary- K-6 General Music
Adrian College Adjunct Instructor - Applied Voice - 2000-2006
Adrian College Adjunct Instructor - Secondary Music Methods - Fall, 2001
Private Vocal Studio - 1984-present, School and Studio Voice Students flourished to succeed in preparing church performances, musical theatre auditions and for Superior Ratings in the following school festivals:
On-site Private Vocal Instruction
Lincoln High School - 1995-present
Blue Lake Fine Arts Camp - Summer, 2001
Grass Lake High School - 1993-1995
Monroe Music Conservatory - 1993-1994
Monroe High School - 1993-1994
Dundee High School -1992-1993
Clinton High School - 1991-1992
Lenawee Christian High School - 1991-1994
Other Voice/Choral Instruction
Blue Lake Fine Arts Camp - Summer, 2001
Carillon Women's Chorale
Carillon Women's Chorale was founded and directed by Karen Nevins in 2001 and continue to perform today. Carillon's goal is to perform excellent treble literature of all historic styles and periods, while seeking excellence in the performance. Carillon is an adult auditioned choir comprised of musically literate women of all ages and professions who are seeking to improve vocal technique and choral skills. Auditions are arranged through the director (karen@karennevins.com) Aug/Sept and Dec/Jan. The audition process seeks women with enthusiasm and commitment for the choral art, healthy vocal technique and the ability to read music notation. Child care can be made available during rehearsals for a reasonable fee.
Church Choir
Tecumseh Baptist Church - Fall, 1993 - Spring, 1996
Conducted weekly services and coordinated special holiday programs.