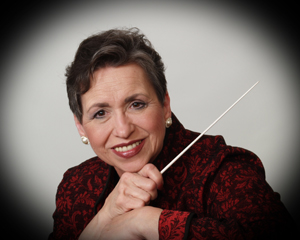 Karen Nevins, M.A. in Performance
"Teacher of Singing"
Lincoln High School Director of Choirs
Carillon Women's Chorale - Founding Conductor

Professional Positions

A.C.D.A. Web Manager - 2008-presentA.C.D.A.-Michigan Secretary - 2001-2008
A.C.D.A-Michigan Repertoire and Standards Chair - 1999-2001
N.A.T.S-Michigan Treasurer - 2005-2010
M.S.V.M.A. Adjudicator/Clinician - 1994-present
M.S.V.M.A. Region C Honors Choir and T.T.B.B. State Honors Choir Co-ordinator - 2011-2013
M.S.V.M.A. 2007 Region A Honors Choir Director
M.S.V.M.A. 2008 State SSAA Honors Choir Director
Biography
Karen (Long) Nevins retired in August, 2013 from teaching choral music in the public schools. She acquired Bachelor of Music Education (Voice/Piano) and a Masters of Arts in Choral Performance degrees from Eastern Michigan University with further study at the University of Michigan, VanderCook School of Music (Chicago) and the Rene Clausen Choral School (MN).
In 1993, Karen began her public school teaching career in Grass Lake Public Schools, where she taught K-12 Vocal Music. In 1995, she moved to Lincoln Consolidated Schools (Ypsilanti) teaching K-2 General Music and three high school choirs (General Choir, Concert Choir and Lincoln Choral Jazz. By 1996, Karen expanded the high school program to five choirs in four classes, to include entry level choirs: Women's Chorus, Men of Lincoln and select choirs: Concert Choir Women, Lincoln Concert Choir and Split Dimensions (Advanced Women) and filling ut oher schedule with a Piano/Theory class. Since 1997, she directed seventeen musical theater productions to include such as: Oliver, Music Man, The King and I, Cinderella, Scrooge, Sound of Music, State Fair, Annie, Calamity Jane, Seussical, Thoroughly Modern Millie, Guys and Dolls, Funny Girl. In 2010, a highly select co-curricular mixed ensemble was auditioned from Men of Lincoln and Split Dimensions to form Lincoln Vocal Essence.
Under her direction, Lincoln choirs were consistently recognized with superior performance ratings at both District and State Festivals. Individual singers achieved positions in the Michigan School Vocal Musical Association's Regional, State and All-State Honors Choirs, and in M.E.N.C. National Honors Choirs. Based upon their State Solo and Ensemble Festival performances, Lincoln advanced ensembles were selected by their adjudicators for consideration to perform at the Michigan Youth Arts Festival. Through blind auditions, Split Dimensions performed in the 2012 Michigan Music Conference M.S.V.M.A. Choral Hour, Lincoln Vocal Essence performed as Distinguished Scholars at the 2012 Michigan Youth Arts Festival State Solo and Ensemble Hour, and Split Dimensions performed in the 2012 A.C.D.A.-Michigan Fall State Conference at C.M.U. In 2010, Lincoln Split Dimensions performed Holiday selections by invitation at Michigan Governor Jennifer Granholm's Lansing residence for her employee gathering.
Karen has taught voice and piano in her studio since 1984. In 2001, Karen served as adjunct instructor of Applied Voice at Adrian College. She taught at the Blue Lake Fine Arts Camp in 2001. Her voice students were recognized with superior ratings at M.S.V.M.A. Solo and Ensemble Festivals and at National Association of Teachers of Singing (N.A.T.S.) State and Regional competitions. Throughout her teaching, Karen was recognized in several publications of "Who's Who of America's Teachers" and "Who's Who of America's Professional Women."
A mezzo-soprano/alto soloist since 1985, Karen soloed with church, community, and university choirs. Karen performed in the Ann Arbor Symphony Chorus for performances of Beethoven's Ninth Symphony, concert performance of Mozart's "Cosi Fan Tutti" and in a 2014 performance of Bernstein's "Chichester Psalms." Karen has won recognition in both State and Great Lakes Regional N.A.T.S. competitions. She served four years as Treasure of N.A.T.S.-Michigan. At E.M.U., she won the 1992 Voice Area Concerto Competition and soloed regularly with E.M.U ensembles and Opera Workshops throughout her undergraduate and graduate studies. In 1997, she soloed in Carnegie Hall under the direction of Dr. Leonard Riccinto and Sir David Willcocks. In later years she performed oratorio and opera throughout southeast Michigan and performed for family life events.
In 2001, Karen became the founding director of the adult auditioned Carillon Women's Chorale. With an aversion for the vast array of wonderful treble choir literature composed for women. Karen's extensive research pertaining to the young virtuoso female musicians of the Venetian Ospedali, inspired her to perform her 2002 EMU Masters Degree recital with Carillon women's Chorale and Lincoln's Split Dimensions, providing an antiphonal setting of Nicholai Porpora's Magnificat with orchestra.
Karen has been active in the M.S.V.M.A. since her induction as adjudicator/clinician in 1992. Karen serves as clinician at choral events and churches. Over the years, Karen has adjudicated District and State Festivals as well as Regional and State Honors Choir auditions. She served two years as M.S.V.M.A. District 12 Manager and four years as Treasurer. She and her students have hosted numerous M.S.V.M.A. festivals, Regional Honors Choir auditions, and SSAA State Honors Choir rehearsals. She has also hosted invitational choral festivals. In 1999, she was awarded the prestigious M.S.V.M.A. Carolyn Leep Scholarship for her M.A. degree studies. She was greatly honored in 2013 when voted by her M.S.V.M.A. colleagues to the final ballot for Teacher of the Year. Karen was also elected to conduct the 2007 M.S.V.M.A. Regional Honors Choir and the 2008 State SSAA Honors Choir. Locally, Karen was invited as guest conductor of the 2008 and 2014 Lenawee Fine Arts High School Honors Choirs and in 2012 she was invited to conduct the University of Toledo High School Honors Choir.
In serving on the A.C.D.A.-Michigan board from 1999-present, Karen first served as Repertoire and Standards Chair for Women's Choirs. In 2001 she was moved to the executive board position of Secretary and has had several articles for publication in the A.C.D.A. Bella Voce newsletter. Karen actively served on the A.C.D.A.-Michigan Fall Convention committee from 2001 to present. A native of Blissfield, Karen and her husband, Ken, raised their three grown children, Christopher, Dana Patrick, and Heather. Today, precious moments are spent making memories with their married children and ten lovely and most gifted grandchildren.